Select the products below to your liking. After you have compiled your set, the right price will appear below.
Delivery time 2-5 workdays*
30 days return policy
Multiple payment options
Please see our Terms & Conditions
iDeal

PayPal

Mastercard

Visa

Bancontact
Giropay

Mastercard

PayPal

Visa

Sofort
PayPal

Mastercard

Visa

iDeal

Giropay
Gecko 2020 & E-Pace 2020
Fanatic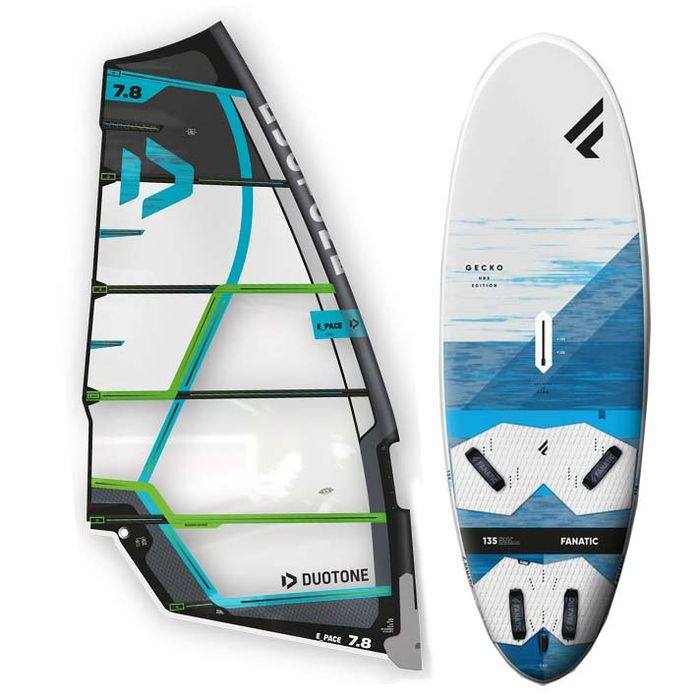 More Information

| | |
| --- | --- |
| Articlenumber | 4000800049S |
| Product | Gecko 2020 & E-Pace 2020 |
| Brand | Fanatic |
| Color | Multi color |
| Season | 2020 |
Fanatic Gecko & Duotone E-Pace
Windsurf set
Are you looking for a super cool freeride set? Then take this set by Fanatic and Duotone with you for your orientation. This set has a good price / performance ratio and is ideal for freeriders who want to jump back and forth!
The board in this set is the Fanatic Gecko. This board is very popular with beginners and advanced windsurfers. This is due to its good stability and ease of use, which allows you to learn new maneuvers like planing and jibing in no time.
The sail comes from the fast growing Duotone brand. The E-Pace is very accessible as there are no bulges in it, so you can set it up in no time, and it's lightweight. In addition, the sail also has performance-oriented properties, so you will never be bored!
With this set you don't have to think a lot as it includes all the necessary materials!
Include:
Fanatic Gecko (Board)
Duotone E-Pace (Segeln)
Unifiber EVO SDM C40 (mast)
Prolimit STX Freemove (Gabelbaume)
Prolimit baseplate (mastfuss)
Unifiber SDM ext. (mastverlangerung)
Tiki uphaul
| | | | | | |
| --- | --- | --- | --- | --- | --- |
| Sail | Mast | Boom | - | retail price | price |
| 5.4 | 430/400 | 177 | - | €2.679,- | €2.099,- |
| 5.8 | 430 | 183 | - | €2.759,- | €2.129,- |
| 6.2 | 430 | 189 | - | €2.779,- | €2.149,- |
| 6.6 | 430/460 | 193 | - | €2.799,- | €2.159,- |
| 7.3 | 460 | 205 | - | €2.729,- | €2.189,- |
| 7.8 | 460 | 211 | - | €2.789,- | €2.229,- |