€1,249.00
Regular Price
€1,999.00
Shop the Fanatic Jag LTD 2019 quickly and easily online at Telstar Surf. Enjoy your new purchase as soon as possible by ordering it today in our online surf shop!
Delivery time 2-5 workdays*
30 days return policy
Multiple payment options
Please see our Terms & Conditions
iDeal

PayPal

Mastercard

Visa

Bancontact
Giropay

Mastercard

PayPal

Visa

Sofort
PayPal

Mastercard

Visa

iDeal

Giropay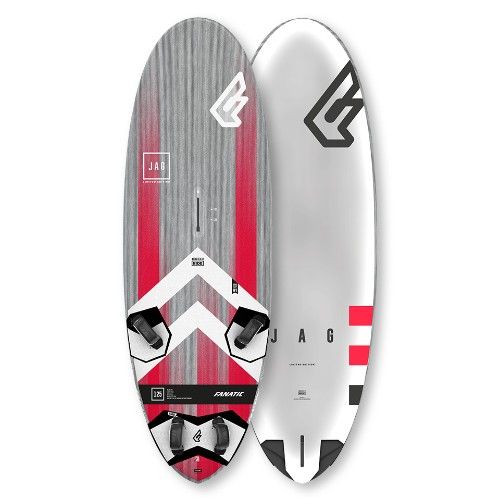 Specifications
| Volume | Length | Width | Fin box | Fin length | Weight (kg) |
| --- | --- | --- | --- | --- | --- |
| 94 | 235 | 61 | Tuttlebox | 34 | 6,37 |
More Information

| | |
| --- | --- |
| Product | Jag LTD 2019 |
| Articlenumber | 4000440027 |
| Brand | Fanatic |
| Color | Multi color |
| Supplier number | 13900-1003 |
| Season | 2019 |
JAG LTD 2019
Freerace
A new edition slalom board for 2019. Offering slalom board performance without the concessions required to win around a tight course. The Jag is a pedal-to-metal rocket designed for surfers whose running track is the open ocean!
The Jag is a slalom board with a more sympathetic character. With its narrower width, smaller cut-outs at the tail and a flatter rocker line, the Jag is inherently more controllable than a slalom board and therefore excels with everything from rotation to racing bikes. These same design attributes are also responsible for the fact that the Jag is an easier and more rewarding board to jibe than a special slalom card.
The Jag is not only a new product for 2019, it is a new concept; a slalomboard that has been re-adjusted for free sailing.
Offered in the Premium Full PVC Biax Fiber LTD construction with a high-quality Choco Black Pearl race fin, the Jag is designed to deliver incredible performance at an even more incredible price. Being fast does not have to be expensive anymore!
Choose the Jag over the Falcon TE for: The Jag is designed to play with all types of sails, while the Falcon needs a special racing rig to keep control. The Jag is easier and less physical to sail, especially for longer periods and is more rewarding in gypen.
Choose the Jag over the Blast: The Jag is the faster board and offers more response to the driver's input at top speed. It is also more efficient in lighter winds and with larger sails thanks to the wider tail.