Shop the Gaastra Spark 2017 Kite quickly and easily online at Telstar Surf. Enjoy your new purchase as soon as possible by ordering it today in our online surf shop!
Delivery time 2-5 workdays*
30 days return policy
Multiple payment options
Please see our Terms & Conditions
iDeal

PayPal

Mastercard

Visa

Bancontact
Giropay

Mastercard

PayPal

Visa

Sofort
PayPal

Mastercard

Visa

iDeal

Giropay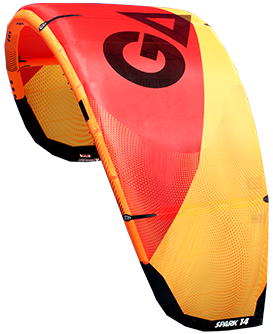 More Information

| | |
| --- | --- |
| Product | Spark 2017 Kite |
| Articlenumber | 5000220096 |
| Brand | Gaastra |
| Color | Red |
| Supplier number | Spark 2017 |
| Season | 2017 |
FREERIDE - BIG AIR FREESTYLE - WAVE
For 2017 GA-kites focused on making the Spark the best handling freeride kite which allows you to ride to your full potential in waves and big jumps! It´s new light-weight three-strut construction ensures very stable flight characteristics and easy control.
We added new reinforcements on the leading edge and added a lighter double spinnaker frame along the trailing edge. A new profile of the kite ensures a more exact pressure point and better barfeeling. This means the spark provides the rider with progressive bar pressure and direct feedback about the position of the kite. Extreme easy relaunch by just pulling one side of the bar!
The GA Spark 2017 is designed for all conditions and is characterized by its early low wind and high depower abilities. Fast reactions on steering impulses combined with an enormous amount of hangtime will set a bench mark in big air freestyle. The Spark features predictable pop which invites advancing riders to lift off. Stable drifting while lines are slack ensure perfect handling when wave riding.
For these reasons you will love your 2017 Spark!
WHAT'S GOOD ABOUT THIS KITE?
very easy control and stability
clear feedback
extreme easy relaunch
huge wind range
long hangtime
ligher and stronger construction
TARGET GROUP
Freerider, medium level to experienced rider who enjoys perfect handling in all conditions and styles.