Shop the PSP Marine PU schuim 2 comp. Protection & repair quickly and easily online at Telstar Surf. Enjoy your new purchase as soon as possible by ordering it today in our online surf shop!
Delivery time 2-5 workdays
Safe and easy payment
30 days return policy. Please see our Terms & Conditions
iDeal

PayPal

Mastercard

Visa

Bancontact

Apple Pay
Giropay

Mastercard

PayPal

Visa

Sofort

Apple Pay
PayPal

Mastercard

Visa

iDeal

Giropay

Apple Pay
PU schuim 2 comp.
PSP Marine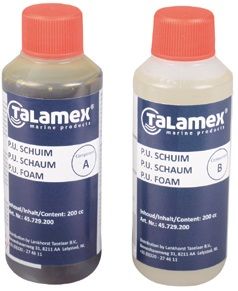 More Information

| | |
| --- | --- |
| Articlenumber | 4091110017.1286 |
| Color | Multi color |
| Supplier number | 45729200 |
| Supplier color | 950 |
| Season | 2019 |
PU Foam for windsurf boards
Board repair
If you have had a crash, it is possible that your board broke. It is an annoying event but not the end of the world. You can fix this by yourself or get it done by a board repairer. For the repair you need to use epoxy. Is there not only a crack in your board, but the polystyrene on the inside also damaged? Then look at this PU foam. If you have a large hole in your board, you want to fill up the polystyrene layer on the inside again, then PU foam is ideal!
You mix the two components and the material expands automatically. Perfect for filling up the styrofoam layer.
How to use the PU foam:
Mixing ratio 1: 1
1 minute mix
Casting where it needs to
Foaming starts after 2 minutes
It is foamed after 30 minutes
It is cured after 24 hours