Select the products below to your liking. After you have compiled your set, the right price will appear below.
Delivery time 2-5 workdays*
30 days return policy
Multiple payment options
Please see our Terms & Conditions
iDeal

PayPal

Mastercard

Visa

Bancontact
Giropay

Mastercard

PayPal

Visa

Sofort
PayPal

Mastercard

Visa

iDeal

Giropay
Rocket LTD 2020 & E-Pace 2020
Tabou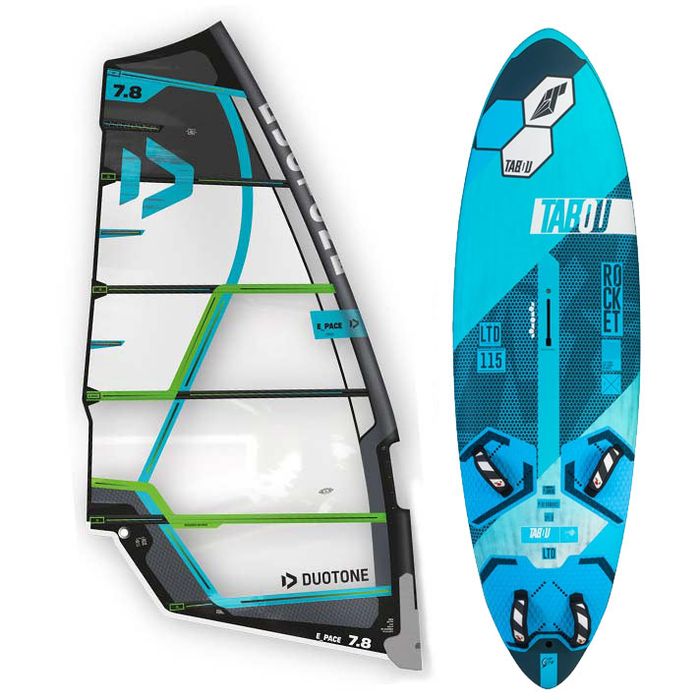 More Information

| | |
| --- | --- |
| Articlenumber | 4000800033S |
| Product | Rocket LTD 2020 & E-Pace 2020 |
| Brand | Tabou |
| Color | Multi color |
| Season | 2020 |
Tabou Rocket LTD & Duotone E-Pace 2020
Freeride set 
The Tabou Rocket LTD set together with the Duotone E-Pace is an ideal set for the surfer who loves to pop back and forth and wants to keep developing.
The Tabou Rocket LTD is quite easy to sail, is fast and has a high-end speed. This allows you to learn how to sail in the foot straps and jib with the Rocket, but it is not a board that gets bored quickly.
The Duotone E-Pace is a no-cam freeride sail and provides faster acceleration and lots of stability when jibbing. The sail feels light so that you learn something new every surfing session.
This freeride set consists of:
Tabou Rocket LTD
Duotone E-Pace
Unifiber SDM mast
Boom
Baseplate
Extender
Pull cord.
See here the sail size variants with the recommended mast and boom lengths and the prices of the complete sets per size:
| | | | | | |
| --- | --- | --- | --- | --- | --- |
| Sail | Mast | Boom | - | retail price | price |
| 5.4 | 430/400 | 177 | - | €3.079,- | €2.369,- |
| 5.8 | 430 | 183 | - | €3.099,- | €2.389,- |
| 6.2 | 430 | 189 | - | €3.119,- | €2.399,- |
| 6.6 | 430/460 | 193 | - | €3.139,- | €2.429,- |
| 7.3 | 460 | 205 | - | €3.169,- | €2.449,- |
| 7.8 | 460 | 211 | - | €3.189,- | €2.469,- |