Select the products below to your liking. After you have compiled your set, the right price will appear below.
Delivery time 2-5 workdays*
30 days return policy
Multiple payment options
Please see our Terms & Conditions
iDeal

PayPal

Mastercard

Visa

Bancontact
Giropay

Mastercard

PayPal

Visa

Sofort
PayPal

Mastercard

Visa

iDeal

Giropay
Rocket LTD & Matrix 2020
Tabou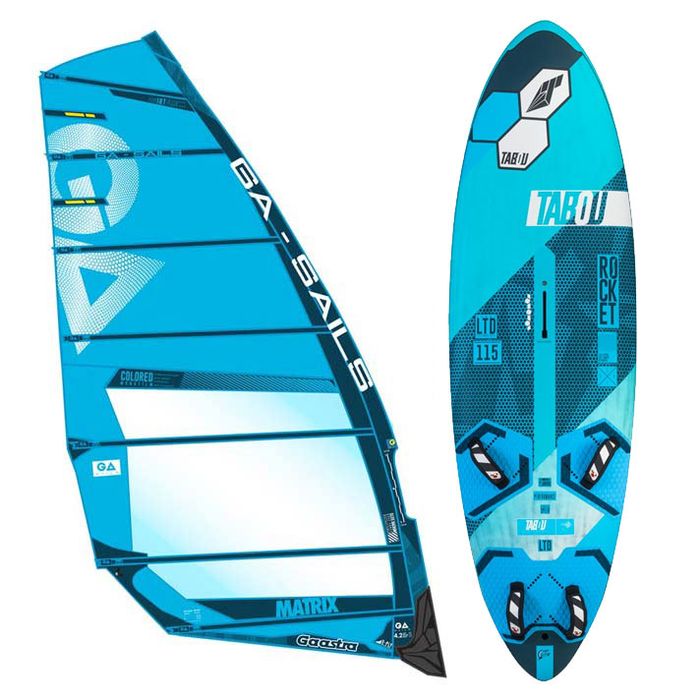 More Information

| | |
| --- | --- |
| Articlenumber | 4000800040S |
| Product | Rocket LTD & Matrix 2020 |
| Brand | Tabou |
| Season | 2020 |
Tabou Rocket LTD & Gaastra Matrix 2020
Freeride set
If you are looking for a windsurfing set with a high performance, then this set might be something for you! The combination of performance and user-friendliness makes this set a top choice for any beginner and advanced windsurfer.
The Tabou Rocket LTD is for any windsurfer looking for an easy freeride board. The Rocket delivers a lot of control and maneuverability for its price so that every freerider can enjoy this board. Sailing in choppy conidities is easy, even in overpowered conditions. The LTD construction has resulted in a durable board that is not only easy, but also fun to navigate!
With the Gaastra Matrix you achieve high speeds and performance. This in combination with its user-friendly design ensures that you will achieve better performance on the water. Because no cambers are used in the sail, you can rig the Matrix quickly and easily.
What's in the set:
De Tabou Rocket LTD
Gaastra Matrix 2020
Technospar SDM C40
Prolimit STX Freemove
Tiki SDM verlenger
Prolimit Baseplate
Tiki ophaal koort.
| | | | | | |
| --- | --- | --- | --- | --- | --- |
| Sail | Mast | Boom  | - | Retail Price | Set price |
| 5.7 | 400 | 182 | - | €3.129,- | €2.299,- |
| 6.2 | 430 | 184 | - | €3.159,- | €2.329,- |
| 6.7 | 430 | 196 | - | €3.179,- | €2.349,- |
| 7.2 | 460 | 204 | - | €3.199,- | €2.369,- |
| 7.7 | 460 | 214 | - | €3.229,- | €2.389,- |
| 8.4 | 490 | 229 | - | €3.289,- | €2.429,- |